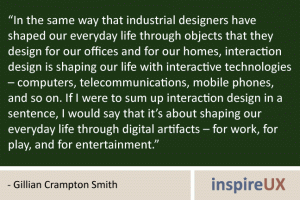 "In the same way that industrial designers have shaped our everyday life through objects that they design for our offices and for our homes, interaction design is shaping our life with interactive technologies – computers, telecommunications, mobile phones, and so on. If I were to sum up interaction design in a sentence, I would say that it's about shaping our everyday life through digital artifacts – for work, for play, and for entertainment." – Gillian Crampton Smith
Gillian wrote the foreward to Bill Moggridge's book Designing Interactions. Watch a video interview with Gillian in which she discusses the ways in which people adopt technologies and the growing sophistication in the qualities of interaction design.
Do you have a quote you want to see on inspireUX? Submit it, and it may be chosen!