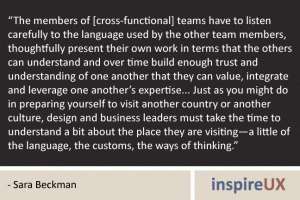 "The members of [cross-functional] teams have to listen carefully to the language used by the other team members, thoughtfully present their own work in terms that the others can understand and over time build enough trust and understanding of one another that they can value, integrate and leverage one another's expertise… Just as you might do in preparing yourself to visit another country or another culture, design and business leaders must take the time to understand a bit about the place they are visiting—a little of the language, the customs, the ways of thinking." – Sara Beckman
Read Kate Rutter's interview with Sara Beckman entitled "Strategic Numbers: Discussing the Value of Design" for more of Sara's thoughts on how design drives business value. Sara clearly expresses the need for design and business team members to work together and understand each other as part of cross-functional teams.
Reminder: You can click on the quote thumbnails to view a full-sized version of the quote for saving and printing purposes.