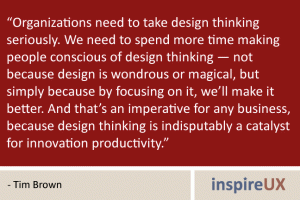 "Organizations need to take design thinking seriously. We need to spend more time making people conscious of design thinking — not because design is wondrous or magical, but simply because by focusing on it, we'll make it better. And that's an imperative for any business, because design thinking is indisputably a catalyst for innovation productivity." – Tim Brown
Read Tim's article "Strategy by Design" from Fast Company.
Happy holidays to all inspireUX readers!