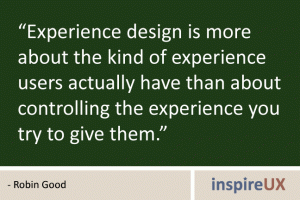 "Experience design is more about the kind of experience users actually have than about controlling the experience you try to give them." – Robin Good
This quote is from Robin's article "Brands Are Inside-Out, User Experience Is Outside-In" that comments on Peter Merholz's article "Experience design is not about brands".
Side Note: A friend of mine is looking for a visual designer (who can prototype designs in CSS/HTML) and/or a logo designer for a new startup.  If you're a freelance designer looking for work, please email me. Thank you!