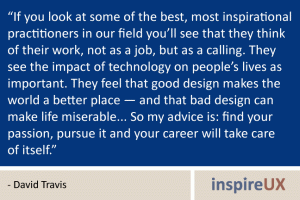 "If you look at some of the best, most inspirational practitioners in our field you'll see that they think of their work, not as a job, but as a calling. They see the impact of technology on people's lives as important. They feel that good design makes the world a better place — and that bad design can make life miserable… So my advice is: find your passion, pursue it and your career will take care of itself." – David Travis
As someone relatively new to this field, this quote really spoke to me, and is probably my favorite out of all that I have posted so far. No matter what field you're in, passion is extremely important.
Read an interview with David Travis on the User Experience Network here.