The blogosphere has been inundated with commentary around the anticipation of iOS 7. While not necessarily representative of the general public, tech writers are clamoring for iOS to evolve rather significantly. I was asked by Fortune Magazine to explore a design concept of what iOS 7 might be like (see: 9 ideas for a radical redesign of iOS 7) . While no one is going to be able to accurately design the real iOS 7 experience, I thought it was an interesting exercise to see how iOS might start to address the needs of today's mobile user. Below is the result of this concepting exercise.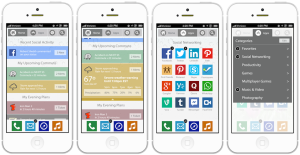 Overall iOS 7 Concept
As evidenced with both Google Now and the Windows Phone experience, today's mobile technology is quickly moving beyond providing access to applications. Mobile devices are increasingly surfacing information valuable to the user in a highly contextual and personalized way.
As a result, it's been widely reported and discussed that iOS is starting to feel "outdated," largely because the current iOS experience is centralized around access to applications, and not information within those applications. Turn on your iPhone, and you're greeted with a screen of individual applications. Open up an application, and your experience is centered solely around that application. Receive a notification, and dig through a list of notifications grouped by apps and not by relevance or importance. Close an application, and move on to the next one, one by one.
My concept centered around the idea that iOS 7 needs to take what iOS is best known for, its apps, and mold the experience around getting to information those applications provide quickly and easily. Apple also needs to give the user more control over their mobile experience. Changing the visual aesthetic to flat design, as rumored, is not enough to really evolve the experience.
Caveats
To get this out of the way, I will completely admit that I was inspired by Google Now and the overall Windows Phone experience. With just a few days to pull together an iOS 7 concept, I felt it best to look at how elements that make those experiences useful could be leveraged effectively within iOS. I don't see this as "copying" per se, rather taking what works well and figuring out how to adapt that within a unique operating system. This concept is also intended more as a conversation starter rather than a comprehensive redesign.
Home Screen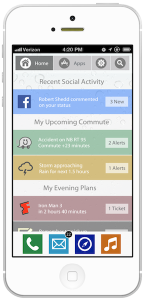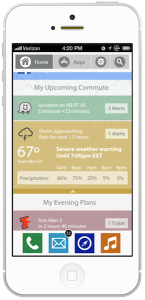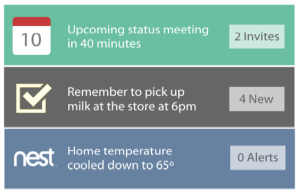 My revised home screen experience uses tiles of information intelligently grouped by context, providing relevant and timely notifications (e.g. My Morning Routine, My Upcoming Commute, My Evening Plans, Recent Social Activity, etc.). There are some key differences between this and Google Now. Google Now revolves around Google services or services that Google can control. Apple's home screen could serve as a platform for applications to deliver contextual content, and users can control what they want to see when. This isn't just about presenting a subset of data accessible within an application, but rather forming the home screen experience around relevant information, regardless of the application it's coming from. 
In the spirit of deeper customization, such a home screen could also be customized to provide a display of semi-permanent items coming from app services. I find the concept of a "widget" too limiting in this context. Widgets live in isolation, much like their full app counterparts. Alternatively, iOS could explore ways of allowing the user to seamlessly move data between app services and interact multiple app services at a time.
Apps Screen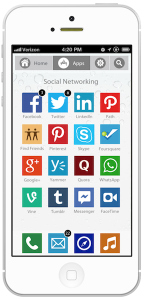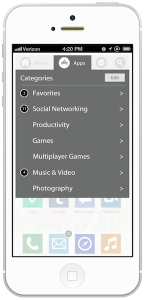 Today's iOS home screen limits the number of apps per screen and within folders. The user is left to manually organize each screen of their device, which can get difficult and confusing if the user has a significant number of apps. My revised apps screen provides more flexibility around organizing apps. Each screen represents a category of apps, and apps can be assigned to one or more categories. By default, apps can be assigned to the category they lie within in the App Store, but apps can be moved to custom categories. Users can quickly navigate between categories by swiping sideways, or view all apps within a category by scrolling vertically. This approach maintains the overall feel that iOS users are accustomed to, but introduces more structure and organization necessary for users who have a lot of apps.
Additional iOS Possibilities
These ideas are just a hypothetical look at what Apple could bring to the iOS 7 experience. One thing is clear, though. Acting as a springboard for applications isn't going to be enough to engage iOS users for much longer. Apple has all of the pieces in place for a more intelligent system (iCloud, Siri, and the largest developer community). It will just need to figure out how these pieces can work more effectively together to bring a unique and useful experience to its users.