Content strategy is hard. It's clear that having a content strategy in place is critical to ensuring the success of most if not all projects. However, the reality is that actually doing content strategy work involves a lot of long, often tedious, and mentally challenging work. For that reason, when working on the content strategy aspects for a project, it's important to find ways to structure the activities and to keep track of the outputs of those activities.
In parts 1 and 2 of the "Mind Mapping for UX Design" series, I discussed applying mind mapping to sketch mapping and research mapping. Mind maps can also be used to help you wrap your head around the content strategy needs for a product or service and to make those activities more tangible, organized, and structured.
In almost all cases, a mind map alone won't be sufficient for completing many elements of content strategy (e.g. content audits, governance plans, metadata and taxonomy definitions, etc.). However, mapping out the high-level elements of content strategy can help ensure that the elements of your strategy are aligned and can help serve as a reference point when compiling the various aspects into a comprehensive strategy.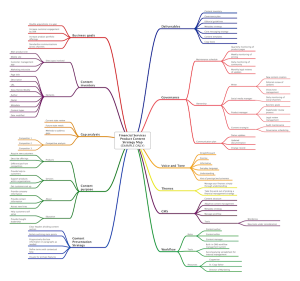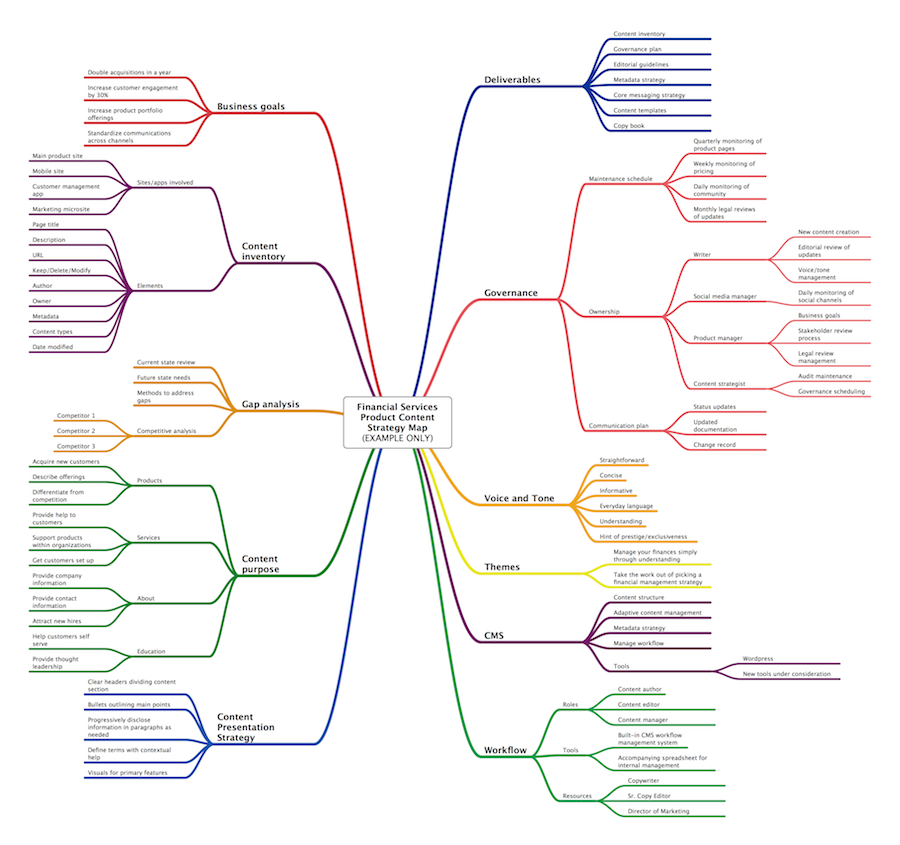 What are content strategy maps?
Content strategy maps outline content strategy activities and deliverables along with the top components that make up those activities. These maps can serve multiple purposes:
Generate a list of the content strategy activities that you will be conducting
Document the primary outputs of content strategy activities
Create a framework for identifying relationships between content elements (for example, how voice and tone can be used to support the content's purpose)
Help reflect the scale and scope of a content strategy effort, helping to plan and resource activities effectively
Create a visual reference of the most important elements of your content strategy for reference throughout a project
Elements of a content strategy map
Content strategy maps can contain a wide variety of elements depending on what is needed for a given initiative. Focus on selecting the elements that will bring you the most value and that will help you structure your activities and outputs.
Content strategy activities – Map out the elements you will need to investigate and focus on during content strategy activities such as content inventory, gap analysis, content assessment and evaluation, content presentation strategy, metadata strategy, governance planning, etc. Identify what you already have and what still needs to be done.
Content strategy outputs – Map out the primary outputs coming from activities such as voice and tone recommendations, content themes, editorial calendar recommendations, taxonomy schemas, migration spreadsheets, etc. It's not practical to document all content strategy outputs in the form of a mind map, but the highlights of these activities can be documented to visually represent the primary findings.
Related elements that can impact a content strategy – Document aspects that may impact how you approach various content strategy activities. This may include aspects that impact CMS or workflow management tool selection. It is also useful to map out business goals and known dependencies that may influence your strategy.
If you have ever used mind mapping to organize content strategy activities, please let me know about your experience in the comments.