Full disclosure: Foraker Labs, the creators of UX Recorder, contacted me requesting a review of UX Recorder in return for a promo code to test the application. This has not influenced my overall positive or negative impressions of the application.
What is UX Recorder?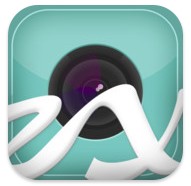 UX Recorder, created by Foraker Labs, is a screen recording iOS application that records user activity on mobile websites in addition to audio and video of the user's face via the device's camera. The application can only be used to conduct usability tests of websites, not other iOS applications. UX recorder is a universal application for iPhone, iPod Touch and iPad devices running iOS 5.0 and above that have a front facing camera (given heavy CPU usage, an iPhone 4 or 4s, iPad 2 or 3, or iPod Touch 4 is recommended).
UX Recorder currently costs $59.99.
This review will focus on the iPhone version of the application, tested with an iPhone 4S running iOS 5.1.1.
For more information about the application, visit www.uxrecorder.com.
UX Recorder in Action
Setting up a project:
Projects hold a group of session recordings. Each project can have a project name, description/notes, and website bookmarks that can be accessed quickly during sessions.  These bookmarks can be synced between devices using iCloud.  Picture-in-picture video settings can be set for each project, which allows you to place the recorded user camera in any corner of the screen or remove it entirely.  Recorded audio can also be turned on or off.  An assigned project date field is notably missing, which could make it difficult to find projects when many are loaded into the application.
Setting up sessions:
Individual test sessions can be assigned a name and description/notes.  Sessions begin by giving you the ability to load a URL from the URL bar or from a preset project bookmark prior to recording.
Recording sessions:
Screen setup during  a recording: Recording is initiated by pressing a record button next to the URL bar.  Once started, a recording indicator and pause button becomes available. The in-app browser has a black URL bar and black toolbar with back, forward, add bookmark, and access bookmarks icons. This differs slightly from what a user may expect from the iOS Safari application, which hides the URL bar when browsing and also has icons for additional page actions and opening a new window.  New windows cannot be opened within the UX Recorder browser, but pages can be accessed quickly using the bookmarking feature. During a recording, the user camera display is not visible but is recorded in the background.
Interrupting a session: Sessions might be interrupted if the user exits the UX Recorder application or if a website starts to play audio. If this happens, an alert allows you to re-start the recording.
Ending a recording: After a session is paused, sessions can be canceled or completed using a "Done" button. I was slightly unnerved by the fact that no confirmation screen is given if you press the "Cancel" button. Sessions are immediately erased with no ability to recover them.  If you choose to end a recording, you can render it immediately or render it later. Rendering takes about 75% of the length of your session to complete, so for longer sessions it may be best to save the rendering process for later.
Exporting sessions:
Export options: Sessions can be exported to iTunes, Dropbox, the iOS Camera Roll, or opened in other applications that support video. While the Dropbox functionality is nice to have, Dropbox has a file upload limitation of 180MB.  UX Recorder sessions can reach that size very quickly, in around 10 minutes.  Longer sessions will need to be exported via iTunes.
Export format: UX Recorder exports files in H.264-encoded .MOV format. This format is highly compatible with most video viewing and editing software. For presentation purposes, you can insert .MOV files into Keynote presentations. However .MOV files need to be converted before they can be inserted into PowerPoint.
Export time: Exporting to Dropbox can take a very long time. In my test of two videos totaling a little over 2 minutes, it took around 3.5 minutes to send those sessions to Dropbox. Transferring to iTunes is much faster by making the exported files immediately available under "Apps" > "File Sharing" in iTunes once a device is connected.
File size: UX Recorder's video files can be very large. A one minute file in my testing ranged from 9MB to 17MB depending on screen activity. Expect to need around 1 GB of space per hour-long recording, which can quickly add up over multiple test sessions and projects. Improved video compression would make UX Recorder more usable for long-term use.
Viewing exported files:
Where exported files can be viewed: Exported videos can be viewed in any application supporting .MOV files (such as Quicktime).  They can also be viewed on your device within UX Recorder after rendering or via the Camera Roll if exported to the device.
What an exported video looks like: Recorded sessions include the picture-in-picture view as defined in the project setup, and also displays taps (circles) and scrolls (arrows) via pink overlays on the video. There are no settings in the application to turn off the tap and scroll indicators. I found the scrolling indicators in particular to be a little distracting in the videos, so it would have been nice to have a setting to turn them off.
Limitations
UX Recorder's limitations as a mobile usability testing recorder are important to call out, as they make the application less useful for certain mobile testing needs.
Inability to record other iOS applications: This limitation isn't Foraker Labs' fault, as Apple rejects any applications that attempt to record activity in other applications.  However, this makes UX Recorder's usage limited to tests of websites, and many UX professionals will still need a separate recording solution for native applications.
Lack of a full screen mode: Much of my own mobile usability testing is done on HTML prototypes that mimic the look and feel of native applications. These prototypes, created in Axure RP, must be accessed in a browser that supports a full screen mode (or launched in Safari via a home screen shortcut) in order to remove the browser navigation bar and toolbar so that the prototypes look and feel like a native application as much as possible. UX Recorder does not currently have this feature, which makes it impossible to test a native application prototype. Given the inability to record an external application, having a full screen mode would at least allow UX professionals to test and record usage of HTML prototypes of native apps.
Slow scrolling: UX Recorder uses its own browser built into the application. It looks and feels a bit different from Safari, especially when it comes to scrolling. In my testing, I found that scrolling was not smooth and that the screen jumped around more than it would in normal usage in Safari. It's still very usable, but it might distract participants who are used to being able to quickly scroll up and down a screen.
No analytics: UX Recorder is simply a recorder, it does not provide a summary of where participants tapped during a session or any other information beyond showing taps and scroll activity as an overlay when viewing a recording.
Requires external power source: For tests longer than just a few minutes, it becomes necessary to have your iOS device plugged into a power source during testing. UX Recorder is very processor intensive and drains the battery extremely quickly when not powered by an external source. This may make it difficult to use UX Recorder with participants in a natural environment.
Large file sizes and long rendering, exporting times: As mentioned earlier, video file sizes can be very large. At around 0.5 – 1GB per hour (actual sizes may vary), files become difficult to manage in large quantities. Rendering a single hour long session may take up to 45 minutes, and must be done before videos can be exported.  Exporting to Dropbox is limited to 180MB, but even short sessions take a very long time to export.
Recommendation
UX Recorder is a great solution if you're looking for a quick and easy way of conducting usability studies on mobile websites on a limited budget. Its usage, however, is limited and cannot be used as a full mobile usability testing solution.
UX Recorder is best used for:
Quick and informal tests of mobile websites
Relatively short test sessions
Tests that do not require external observers
Pros:
Supports multiple projects and multiple test sessions within a project
Allows the setup of bookmarks for quick access during test sessions that sync between devices via iCloud
Records both on-screen activity as well as video from the front facing camera with multiple picture-in-picture settings
Records audio in addition to video
Displays clicks and scroll activity within video recordings
Cons:
Inability to record other iOS applications (iOS limitation)
No full screen recording mode
Slow scrolling within the browser
Lack of click analytics
Requires a significant amount of battery power, making external power required for long sessions
Very large video files for long sessions
No setting to turn off the tap/scroll indicators in a video recording
Cost: At $59.99, the price may be seen as either a pro or a con depending on your budget.  While cheaper than most other screen recording solutions and full mobile usability testing setups, the price is still fairly steep given the application's limitations.
Overall Rating: