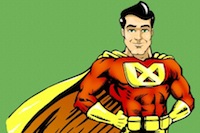 UX Heroes has a great offer available on several tools for UX Designers.  The UX Heroes Visual Prototyping Bundle offers a deep discount on three visual prototyping tools to help you diagram, wireframe and prototype. You can choose your own price using the slide control at the bottom of the page. This bundle only runs until September 27th, so act quickly if you're interested in it!  You can get the following tools worth almost $200 for any price you choose:
Gliffy Online: Create diagrams such as flowcharts, UI wireframes, floor plans, network diagrams, UML diagrams, web site maps, or any other simple drawing or diagram.
HotGloo: Collaboratively create low and high fidelity wireframes or prototypes.
Mocksup: Share your mockups on any desktop, tablet or smartphone, collect feedback via comments and sticky notes, and create quick UX prototypes by linking mockups together.
Plus, you can get Chalkmark (worth $109) if you spend $40.
If you use the link in this blog post for the offer, you will be able to get a discount if you go on to buy the main bundle when it is launched in a couple of weeks. That bundle will offer even more UX tools for a fraction of their retail cost.