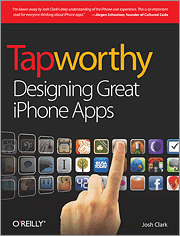 I was recently tasked with planning the user experience of a rather complex iPhone application.  While I've been involved in iPhone projects in the past and use the device (well, an iPod Touch 4g) regularly, I knew I needed a little help in the nuances of iPhone design in order to design for an optimal experience.  For that I turned to Josh Clark's Tapworthy: Designing Great iPhone Apps. It has been incredibly helpful.
Full disclosure: I haven't read any other iPhone design books, so perhaps I'm not entirely qualified to make the statement in the title of this post. I came across Tapworthy when the book's author sent me a copy.  Regardless, I maintain it's a fabulous resource and should be a must-read for anyone who is working on designing iPhone applications.
Tapworthy is one of the most useful and practical User Experience books I have ever read.  The book begins by explaining when and how iPhone apps are used as well as the characteristics of the majority of iPhone users.  Josh explains how to focus your apps on helping users accomplish a primary task, and to encourage long-term use of your application.
The detailed interface advice outlined in Tapworthy is what makes it truly special.  Josh covers every possible consideration when it comes to iPhone application design, ranging from where to best position screen elements to make for the most comfortable ergonomic experience, to the detailed nuances of application navigation design, to when to use standard vs. custom icons within the application.  He even covers how to best name your application and make it stand out in the App Store.
Some of the tips and tricks that particularly stood out to me included:
When to use flat pages vs. tab bars vs. tree navigation
"Don't be different just to be different; be different when you believe you can be better."
Icons should emphasize clarity over personality, and make sure metaphors are appropriate to the device.
Many of Josh's tips are supported by numerous case studies throughout the book.  Interviews with designers from Facebook, USA Today, Gowalla, Twitterrific, among many others, help to support the book's techniques as well as give insight into the detailed decisions that designers had to make in order to create exceptional experiences.
If I were to offer some critical feedback of the book, I'd point out that the book primarily focuses on productivity and utilitarian applications, and not as much on unique applications or on game design, which is one of the most popular uses of the device.  While there is a chapter on how to create a unique visual identity for apps whose purpose is best suited for a non traditional design, the chapter is relatively light on specific techniques for how to best branch outside of the standard design elements.  If you're looking for tips on how to best design games for the iPhone platform, you probably want to turn to other books or resources for guidance.  But if you're looking for how to build a great mobile tool that extends your brand, Tapworthy is as good as it gets.
Be sure to pick up a copy of Tapworthy. Also consider following Josh Clark on Twitter.
Tapworthy apps draw people in with both efficiency and charm. – Josh Clark