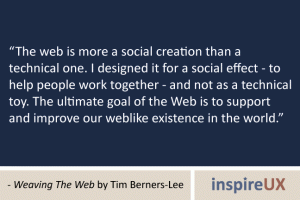 "The web is more a social creation than a technical one. I designed it for a social effect – to help people work together – and not as a technical toy. The ultimate goal of the Web is to support and improve our weblike existence in the world." – Weaving The Web by Tim Berners-Lee
Read more in Tim's book Weaving The Web: The Original Design and Ultimate Destiny of the World Wide Web.
Thanks to interaction-design.org for pointing to this quote!