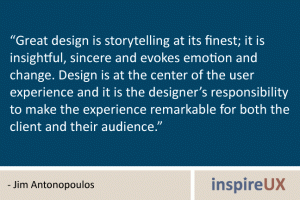 "Great design is storytelling at its finest; it is insightful, sincere and evokes emotion and change. Design is at the center of the user experience and it is the designer's responsibility to make the experience remarkable for both the client and their audience." – Jim Antonopoulos
This quote is from Jim's thoughts on "Why Design?" from Design Victoria.
Thanks to Bella Martin for submitting this quote!