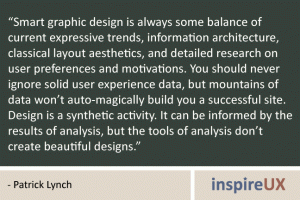 "Smart graphic design is always some balance of current expressive trends, information architecture, classical layout aesthetics, and detailed research on user preferences and motivations. You should never ignore solid user experience data, but mountains of data won't auto-magically build you a successful site. Design is a synthetic activity. It can be informed by the results of analysis, but the tools of analysis don't create beautiful designs." – Patrick Lynch
Patrick's quote is from the article "Visual Desision Making."
Today marks inspireUX's 200th quote! In order to keep sharing inspiring UX quotes with you three times a week, I'll need your help. Please take a moment to:
Submit any quotes that you create or come across.
Send a tweet to @inspireUX with any great articles you find.
Submitting quotes not only helps this site, but also is a great way to get your name/site out there if you decide to be credited for your submission and your quote is posted. Thank you all for your continued support.