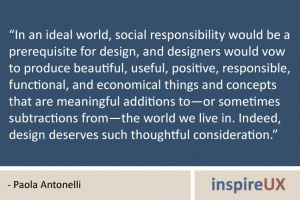 "In an ideal world, social responsibility would be a prerequisite for design, and designers would vow to produce beautiful, useful, positive, responsible, functional, and economical things and concepts that are meaningful additions to—or sometimes subtractions from—the world we live in. Indeed, design deserves such thoughtful consideration." – Paola Antonelli
Read more from Paola, senior curator of design and architecture at New York's Museum of Modern Art, in her article "Core Principles" from Seed Magazine.
Thanks to @nonperishable and @21xdesign for sharing this article on Twitter!