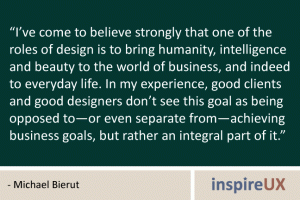 "I've come to believe strongly that one of the roles of design is to bring humanity, intelligence and beauty to the world of business, and indeed to everyday life. In my experience, good clients and good designers don't see this goal as being opposed to—or even separate from—achieving business goals, but rather an integral part of it." – Michael Bierut
Read more from Michael in his 2006 interview with Peter Merholz from Adaptive Path.
This article was submitted by an inspireUX reader. Please help support inspireUX by submitting your favorite quotes or sources!