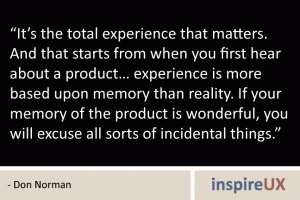 "It's the total experience that matters. And that starts from when you first hear about a product… experience is more based upon memory than reality. If your memory of the product is wonderful, you will excuse all sorts of incidental things." – Don Norman
Don's quote is from an interview conducted at UX Week 2008. Read some other choice quotes from this interview here. This quote was submitted by Michael Cummings.
Please help inspireUX maintain a frequent quote posting frequency by submitting your favorite UX quotes. Thank you!