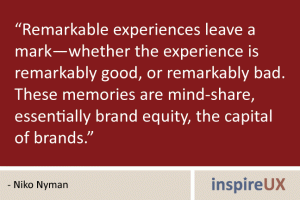 "Remarkable experiences leave a mark—whether the experience is remarkably good, or remarkably bad. These memories are mind-share, essentially brand equity, the capital of brands." – Niko Nyman
Read more from Niko in his presentation "The Value of User Experience" from the 2008 Web 2.0 Expo in Berlin.  View another quote from this presentation here.
Do you have a thought on how UX impacts people, businesses, and the world as a whole? If so, submit a quote and you may see it on inspireUX! It's a great way to promote your name and ideas to inspireUX readers.