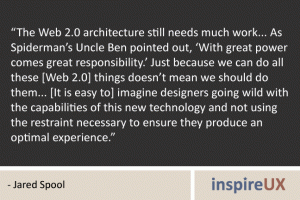 "The Web 2.0 architecture still needs much work… As Spiderman's Uncle Ben pointed out, 'With great power comes great responsibility.' Just because we can do all these [Web 2.0] things doesn't mean we should do them… [It is easy to] imagine designers going wild with the capabilities of this new technology and not using the restraint necessary to ensure they produce an optimal experience." – Jared Spool
This quote is from Jared's article "Web 2.0: The Power Behind the Hype." Quote submitted by my Vanguard coworker, Brian Nothacker.
Special thanks to Whitney Hess for including inspireUX in her blogs.com listing of the 10 Best UX (User Experience) Design Blogs! It is quite an honor to be included among so many excellent contributors to the field.