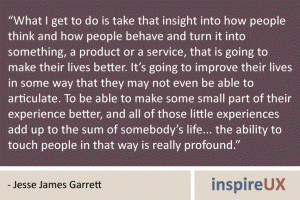 "What I get to do is take that insight into how people think and how people behave and turn it into something, a product or a service, that is going to make their lives better. It's going to improve their lives in some way that they may not even be able to articulate. To be able to make some small part of their experience better, and all of those little experiences add up to the sum of somebody's life… the ability to touch people in that way is really profound." – Jesse James Garrett
Note: Last portion of the quote has been slightly paraphrased for clarity.
Listen to a podcast with Jesse entitled "What the Heck is User Experience Design??!! (And Why Should I Care?)" from Teresa Brazen's blog Tea with Teresa.