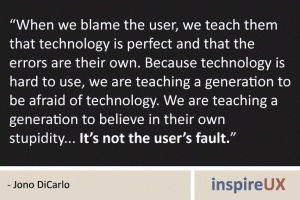 "When we blame the user, we teach them that technology is perfect and that the errors are their own. Because technology is hard to use, we are teaching a generation to be afraid of technology. We are teaching a generation to believe in their own stupidity… It's not the user's fault." – Jono DiCarlo
Read Jono from Mozilla Labs' article "These things I believe" for his thoughts on software development and user interface design.
Do you have a quote you want to see on inspireUX? Submit it, and it may be chosen!