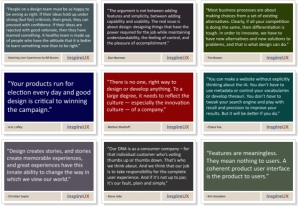 Today's quote marks the 100th inspireUX quote!  To celebrate, I have created a quote gallery as another method of browsing and reading all of inspireUX's quotes.  You can browse through the quotes manually or view a slideshow.
Feedback is welcome!
Please help support inspireUX by submitting inspiring user experience quotes.  Without your help, I may soon run low on quotes to share with everyone.  Thanks for your continued support!