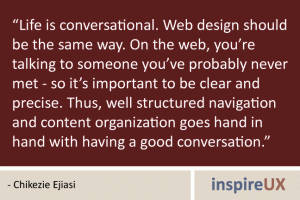 "Life is conversational. Web design should be the same way. On the web, you're talking to someone you've probably never met – so it's important to be clear and precise. Thus, well structured navigation and content organization goes hand in hand with having a good conversation." – Chikezie Ejiasi
Quote submitted by the author, Chikezie Ejiasi.
Please help support inspireUX by submitting your own inspiring quotes or quotes that you find from others.  In order to maintain my current posting frequency, I'll need your help!  Thanks so much for your continued support.