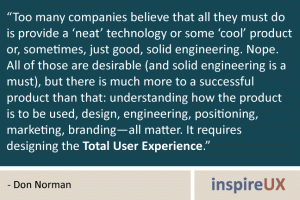 "Too many companies believe that all they must do is provide a 'neat' technology or some 'cool' product or, sometimes, just good, solid engineering. Nope. All of those are desirable (and solid engineering is a must), but there is much more to a successful product than that: understanding how the product is to be used, design, engineering, positioning, marketing, branding—all matter. It requires designing the Total User Experience."- Don Norman
Quote from the article "Sharing Ownership of UX" from UXmatters.
If you'd like to read more by Don Norman, pick up his books for many insightful thoughts on design.