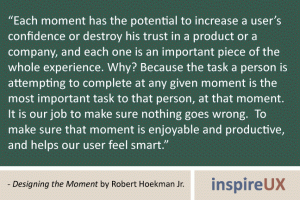 "Each moment has the potential to increase a user's confidence or destroy his trust in a product or a company, and each one is an important piece of the whole experience. Why? Because the task a person is attempting to complete at any given moment is the most important task to that person, at that moment. It is our job to make sure nothing goes wrong.  To make sure that moment is enjoyable and productive, and helps our user feel smart." – Designing the Moment by Robert Hoekman Jr.
Purchase Designing the Moment here or check out a sample chapter of the book on Robert Hoekman Jr.'s site.
Read David Fiorito's thoughts on Designing the Moment here.