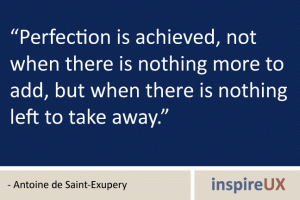 Edit: As noted in the comments, the originally submitted quote was slightly inaccurate, but added the focus on designers.  I'll keep that version available, but please note that the quote above is more accurate.
"Perfection is achieved perfection not when there is nothing left to add, but when there is nothing left to take away" – Antoine de Saint-Exupery
Quote submitted by Geoff Alday. Geoff found the quote in this presentation by Will Tschumy from Microsoft (Slide 105).  Check out Geoff's thoughts on the presentation here.
Robyn had also submitted this quote via a comment on the inspireUX post "The life of a designer is a life of fight against the ugliness."
Do you have a quote you want to see on inspireUX?  Submit it and it may be posted!