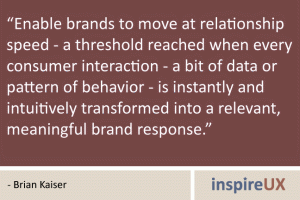 "Enable brands to move at relationship speed – a threshold reached when every consumer interaction – a bit of data or pattern of behavior – is instantly and intuitively transformed into a relevant, meaningful brand response." – Brian Kaiser
Quote submitted by Brian Kaiser of Targetbase XACT. Thanks, Brian!
If you want your own quote to be featured on inspireUX, or have a favorite quote from someone else, submit it and it may be posted! Please note that while I like reading all sorts of quotes, only those related in some way to user experience (or fields that impact user experience) will be considered for posting. I'd like to keep this site as focused as possible on UX quotes. Thanks!